Announcement
The Tuol Sleng Genocide Museum of Cambodia is pleased to inform to the public that the museum is close for visit during noon (11:30 AM – 01:30 PM) Until further notices.
Thank you!!
Announcement
Due to the protection of the second wave of Covid-19 virus, the administration of the museum will request every guest who wishes to visit the museum as follow:
1. Body temperature check.
Note: the test is quick and is carried out by a laser thermometer.
The test is obligatory.
2. Washing hand with hand-sanitizer or powder as many times
as possible at the spot provided.
3. Keep distancing at least 1 meter.
4. Tour guide and the guest must wear a mask.5. No spitting or throwing the used-mask withing the museum ground.
6. Keep the rest room clean.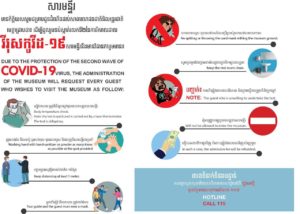 Tuol Sleng Genocide Museum is pleased to inform national and international public that the museum has temporarily closed the exhibition of "40 years: Remembering the victims of S-21" due to a significant decrease in number of visitors caused by the spread of Covid-19. However, in case that the national and international public wishes to visit this exhibition, please inform Tuol Sleng Genocide Museum in advance by phone:
– Administration office: 077 252 121
– Exhibition and research section: 016 526 767 or 078 928 799
Or by email:
⁃ info@tuolsleng.gov.kh
⁃ vandetvoeun3@gmail.com
website 
www.tuolsleng.gov.kh
Tuol Sleng Genocide Museum
The Tuol Sleng Genocide Museum is the memorial site of the S-21 interrogation and detention center of the Khmer Rouge regime. Located in the heart of Phnom Penh, it preserves a tragic period in history with the aim to encourage visitors to be messengers of peace.